In 2003, I commenced my journey with a Korean brand, KIA as Marketing Manager. Shortly thereafter, I was appointed as the Head of the Marketing Division at KIA Malaysia, by a wholly-owned subsidiary called NAZA. The Naza Group of Companies is a Malaysian business conglomerate with diversified interests ranging from motoring to education. The group was established in 1975 as a motor trading company and the motoring sector remains its most significant sector.
During my tenure, I played a key role in several KIA launches and models such as Sorento, Carens, Sportage, Optima, Rio, and Carnival. I was also directly involved in the development and marketing of the First Malaysia National MPV, NAZA Ria, which was based on the KIA Carnival.
I have learned that KIA has always been focused on penetrating the global market as its primary objective. It appears that they have taken a page from the Japanese automakers, who also produce JDM (Japanese Domestic Model) vehicles but prioritize selling their cars overseas.
KIA Stringer | Wikimedia Commons
Having the right priorities matter
KIA has put more emphasis on the overseas market and has implemented several initiatives and strategies to achieve its goal. In fact, KIA Motors has been actively working to expand its presence in overseas markets through various partnerships, joint ventures, and investments. It seems that KIA's efforts to enter overseas markets are starting to yield positive results, as they continue to gain market share and recognition in the global auto industry.
The rise of Korean automobiles is a relatively recent development that has occurred over the past few decades. Hyundai and Kia, two South Korean automakers, have established themselves as significant market players in the global auto industry.
Several factors, including the country's investment in R&D and emphasis on quality and innovation, can be credited with the rise of Korean automobiles. Additionally, Korean automakers have been able to produce vehicles of superior quality at lower prices than their rivals, making them appealing to consumers seeking value for their money.
For instance, Hyundai was initially known for producing inexpensive entry-level automobiles. However, the company has since added more expensive models, like the Genesis luxury brand, to its product line. Kia has likewise taken comparable actions, with the presentation of its Stinger sports car and the extravagance K900 car.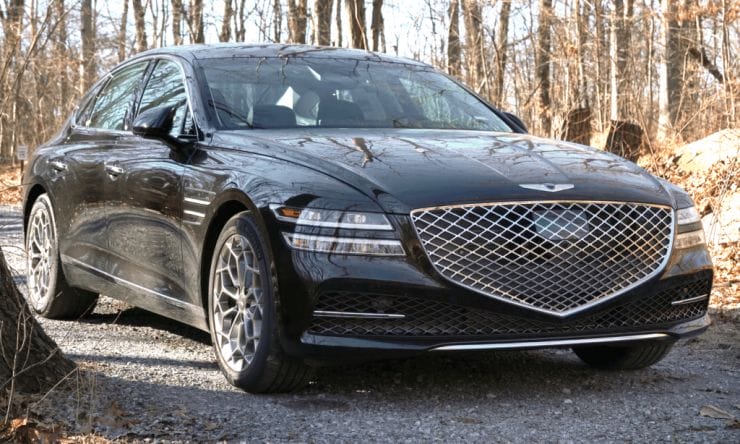 Genesis G80 | Wikimedia Commons
The Korean automakers' focus on design is another factor in their global success. Both Hyundai and Kia have invested a lot of money in their design departments and hired top people from all over the world to help them make cars that look good and sell to a wide range of people.
In general, the rise of Korean automobiles on the global market demonstrates the nation's dedication to value, quality, and innovation. Korean automakers are likely to remain significant players in the global auto industry for many years to come if they continue to invest in R&D and design.
Three of the top four rankings in the newly redesigned J.D. Power 2022 US Vehicle Dependability Study are held by Korean automakers Kia, Genesis, and Hyundai.
After three years of ownership, Buick and Toyota also make the list of the brands with the fewest reported issues.
David Amodeo, director of global automotive at J.D. Power, stated, "Many owners are holding on to their vehicles longer, so long-term dependability is even more critical."
Some automakers are doing a much better job of preventing issues than others. These issues incorporate the vehicle's mechanicals, outside and inside — yet additionally infotainment frameworks, driver help frameworks and the wide range of various electronic frameworks in the present vehicles."
The J.D. Power 2019 US Initial Quality Study (IQS) was the first examination of the 2019 model-year vehicles measured in this year's study. Seven of the top ten brands in this year's VDS are also among the top ten in the 2019 IQS.
The research, now in its 33rd year, has been redesigned to include all of the technology and features found in current automobiles.
In nine major vehicle categories, the study examines 184 distinct problem areas: climate; assistance with driving (coming in 2022); driving knowledge; exterior; controls, displays, and features; infotainment; interior; powertrain; and chairs.
After three years of use, the study now also measures satisfaction with the vehicle's condition; whether the vehicle's current owners find it to be as appealing as when they first bought it; and the vehicle's most recent software updates.
Hyundai vehicles were evaluated as best in Product Satisfaction by JD Power
Hyundai has beaten down other worldwide contenders to turn into the largest producer of top-ranked vehicles in the US, in a customer satisfaction study led by J.D. Power, organization.
As per the American buyer research firm, seven vehicles of the Korean carmaker positioned first ― by grade ― in quite a while 2022 Car Execution, Execution and Format (APEAL) Review delivered as of late.
The company that conducts consumer research looked into people's satisfaction with various aspects of their new cars, such as the design of the interior and exterior, driving performance, controls for the infotainment system, safety, and cost. From a possible 1,000 points, each vehicle received points for consumer satisfaction in various categories.
Other than Hyundai Motors, Nissan, Stellantis, and BMW Group tied for second place with their three first-place vehicles in three distinct classes.
The Korean automaker claimed that it was pleased with the outcomes because, in the most competitive segments of mid-to-large SUVs, minivans, and mid-to-large premium cars in the U.S. auto market, it produced the best vehicles.
"Our efforts from the beginning of product development have resulted in seven models topping lists of the most satisfying cars according to size class. A representative of Hyundai Motor stated, "The company will continue to produce automobiles that can be recognized for their value in terms of both quality and marketability."
Why Do Americans Like Korean Cars So Much?
For a long time, American automakers dominated the automotive industry in the United States, despite being challenged by foreign automakers as well. As soon as 1992, as found in this article by the NY Times, a wide range of unfamiliar vehicle brands swarmed the market, including South Korea's Kia Engines and Hyundai.
Hyundai and Kia Motors both entered the market with entry-level-oriented vehicle models and strategies. In 1986, Hyundai introduced Excel, a low-cost subcompact, in the United States. There were complaints about Excel's quality and dependability, and as a result, a lot of Hyundai car dealerships quit in droves. When compared to the activities of General Motors Corporation or Mitsubishi Motors Corporation, Kia began modestly with a limited scope and venture.
Both Hyundai and Kia are experiencing a rise in popularity in the United States at the moment, surpassing all previous records. Since the more well-known brands are too expensive, Korean cars may have been seen as a compromise option for people looking for cheap cars for sale; however, today, Korean cars are among the most dependable vehicles in the world.
Why Korean cars are becoming increasingly popular
Affordable Vehicles
Hyundai and Kia began in the vehicle business by offering entry-level vehicles that looked and drove like cheap vehicles. Hyundai and Kia have managed to maintain the affordability of their brands while providing one of the world's most dependable automobiles, despite the fact that early Korean automobiles lacked the quality that can compete with established American brands.
Excellent Initial Brand Quality
According to the 2019 JD Power Initial Quality Survey, Korean automakers Genesis, Kia, and Hyundai outperformed European and American automakers in terms of initial quality. According to the 2020 report, Genesis and Hyundai fell down the rankings, while Korean manufacturer Kia and American manufacturer Dodge shared first place. On its "About Us" page, JD Power claims to "amplify the Voice of the Customer and assist brands in improving the value of their products and services." By asking respondents to rate the various aspects of a brand's cars or product experience, its survey measures a car's initial brand quality, and Korean brands achieved excellent initial brand quality.
Best Warranties
Hyundai was the principal organization to carry out a 10-year/100,000-mile guarantee in 1998 and was before long followed by Kia carrying out a comparative guarantee. When it was first introduced, Hyundai's warranty caused a stir worldwide, but it is now known as America's Best Warranty. The best auto warranties in the business are still provided by Hyundai and Kia.
A Wide Selection of Vehicles for Different Drivers
Not all drivers have the same requirements, so individuals seek out a variety of automobiles to satisfy those requirements. Hyundai and Kia both offer the Elantra and Soul, respectively, for Generation Z customers who are concerned about their financial situation.
In conclusion, Hyundai and Kia are two of the most reputable car brands in the US, and all Americans need to do to find the Korean car they need is type in "Hyundai dealers near me" or "Kia dealers near me." Buying a car from a reputable Hyundai or Kia dealer near you can help you get the best deal.