In our life's journey, we often come across individuals whose impact on our well-being is profound and lasting. Among those remarkable individuals for my family and me, one stands out: Dr Sedhu Faisal, an extraordinary physician in Perlis. Since the 1970s, he has not only been our trusted family doctor but also a compassionate friend who has guided us through the highs and lows of our health. His unwavering dedication, exceptional medical expertise, and genuine care have made him an indispensable part of our lives.
This photo was taken in the early morning of 7th June 2023
My father and Dr Sedhu's friendship spans over four decades, a testament to the depth of their connection. They bonded over their shared passion for cars, spending countless hours immersed in conversations about the latest automotive trends. His love for cars was evident in his extensive collection of car magazines, which he eagerly shared with my father and me.
While they indulged in their discussions, I, being a young boy with limited English skills, would flip through the magazines, captivated by the captivating photos. As they engrossed themselves in the articles, I would find myself drawn to the sight of his impressive collection of cars, including the Jaguar E-type, Saab Turbo, Jaguar XJS, Pantera, and many more. It was through these shared moments that I witnessed the bond between my father and him, built on their mutual love for automobiles and their genuine friendship.
As a testament to their close bond, I have a treasured photo of my father and Dr Sedhu in his clinic, taken with a humble Yashica camera in the 1980s. Both of them, along with his De Tomaso Pantera GTS, are captured in that cherished moment. It is with this sense of gratitude and recent personal experience, as I sought his expertise for my health concerns of severe sore throat, headache, runny nose, and fever-like symptoms, that I feel compelled to share this article.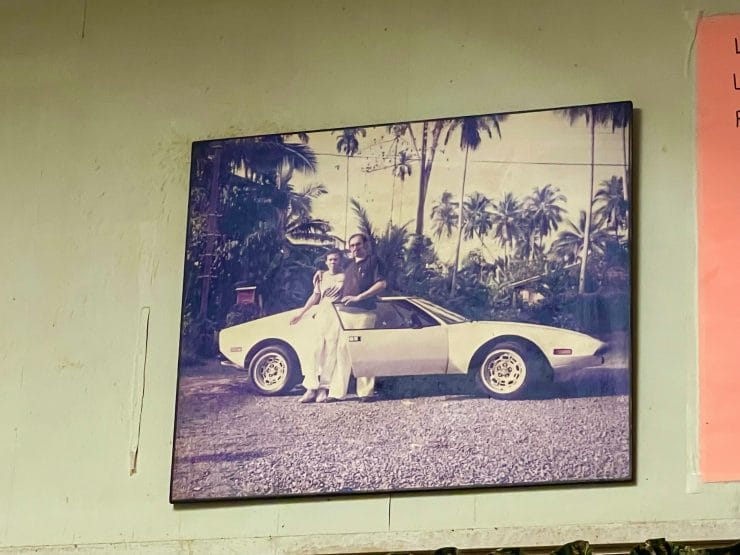 The enlarged photo of both my dad and Dr Sedhu. Place in his clinic. The photo was taken in 1991 right in front of my kampung house in Perlis.
A passion for excellence
What sets him apart is not only his medical prowess but also his discerning taste for the finer things in life. His love affair with luxury cars is legendary, with a particular fascination for Ferrari since 1970, Jagaur XK120, XK150, S-type 3.8s 1967 and De Tomaso Pantera GTS. Since the 1970s, he has been the proud owner of these iconic automobiles, relishing their sleek designs, exhilarating performance, and timeless elegance. His collection stands as a reflection of his refined taste, passion for craftsmanship, and unwavering pursuit of excellence.
Beyond the allure of sports cars, his appreciation extends to the captivating charm of the Jaguar. From the classic Series 1 to the refined Series IV and the iconic E-Type and XJS, he has amassed an enviable collection of more than 70 Jaguars. Each car carries with it a piece of automotive history, mirroring his refined taste and unwavering commitment to timeless elegance.
I have witnessed a remarkable collection of cars owned by Dr Sedhu Faisal, including rare models from the Jaguar family such as the MK1, MK2, MK10, XK120, XK150, XJS, E-Type 3.8 and 4.2, XJ6, XJ12, and XJ6. In addition, he possesses a Ferrari 308 GT4, Ford Thunderbird, Pontiac Firebird, and several Saab models including the Saab 96 and Saab 900 Turbo, as well as Mercedes 600 SEL, 300TE, and many others. These are just a few examples of his extensive collection.
In addition to the impressive cars I mentioned earlier, Dr Sedhu Faisal also owns a BMW New Six 3.0si, 633 CSi, and several other models that I cannot recall off the top of my head. His passion for automobiles is evident in the diverse range of cars he has collected over the years.
At a young age, Dr Sedhu Faisal introduced me to the world of fine craftsmanship and quality. I vividly remember when he brought back a pair of A. Testoni shoes from Singapore, ensuring that I experienced the comfort and elegance they offered. As time went on, he passed on his appreciation for luxury timepieces, sharing with me his cherished collection of Rolex watches. From my primary school years, I had the privilege of exploring the intricacies of watches like the Submariner, GMT, and others. Among them, the Day-Date Rolex with its Roman dial, Oyster bracelet, and triple lock mechanism captured my heart. Dr Sedhu's guidance and influence have instilled in me a deep appreciation for exquisite craftsmanship and timeless elegance.
I continue to cherish the pair of A. Testoni shoes that Dr Sedhu Faisal gifted me all those years ago. Before presenting them to me, he went the extra mile to ensure they were in pristine condition. He entrusted the shoes to the skilled hands of P.Lal, a renowned store in Kuala Lumpur known for its expertise in shoe refurbishment. Their meticulous craftsmanship breathed new life into the shoes, preserving their beauty and quality. Every time I wear those shoes, I am reminded of Dr Sedhu's thoughtfulness and his unwavering commitment to perfection in even the smallest details. The A. Testoni shoes serve as a tangible reminder of our enduring friendship and the lasting impact he has had on my life.
De Tomaso Pantera GTS with 5.7 V8 Engine.
Dr. Sedhu's late wife, fondly known as Aunty Che Sah, was a culinary genius. Her culinary creations were nothing short of magical, captivating our taste buds and warming our hearts. Every Hari Raya celebration, my parents and I eagerly anticipated Aunty Che Sah's mouthwatering dishes. From savory rendang to aromatic nasi briyani, her culinary prowess was unmatched. Just as his choice of cars exudes sophistication, Aunty Che Sah's culinary skills were a testament to her creativity, skill, and unwavering dedication to perfection.
The mark of a true physician
His passion for excellence is not confined to his pursuits but also extends to his medical practice. He firmly believes that every patient deserves the highest standard of care, regardless of their background or status. His unwavering commitment to providing the best medicine is a testament to his character, integrity, and genuine concern for the well-being of those he serves.
Under his care, alhamdulillah, my family and I have experienced first-hand his meticulous approach, comprehensive knowledge, and unwavering dedication to our health. He not only treats our ailments but also takes the time to listen, understand, and provide guidance, ensuring that we receive the most appropriate and effective care.
In Dr. Sedhu, we have been blessed with more than just a doctor. His compassionate care, exceptional medical expertise, and unwavering dedication have left an ingrained mark on our lives. As we reflect on our journey together, we are grateful for his friendship, guidance, and the sense of security he instills in us. He embodies the true essence of a physician who goes above and beyond, truly exemplifying the noble qualities that define the medical profession. We are forever grateful for his unwavering commitment to our well-being and his lasting impact on our lives.
My father standing on the left with a round-neck tee in front of Dr Sedhu's Ferrari 308GT4. The photo was taken in the late 70s.
His dedication to his patients goes beyond societal status and financial means, embodying the true essence of a great physician. Regardless of whether his patients are royalty or paupers, he treats each individual with the utmost care and respect. This unwavering commitment to providing the best possible medical care to all reflects the noble qualities that define him as a remarkable human being.
He once told me, "Azad, if we help others, Allah will help us in many other ways." These words resonate deeply within me, highlighting his selfless nature and his belief in the power of compassion and empathy.
His dedication to exploring alternative healing methods showcases his commitment to finding the most effective treatments for his patients. His holistic approach, rooted in a deep understanding of both Western and Indian traditions, sets him apart as a physician who embraces the diverse facets of medicine. His willingness to go beyond conventional boundaries reflects his relentless pursuit of providing comprehensive care to those who seek his expertise.
One remarkable aspect of his approach to medicine is his integration of modern and traditional practices. He recognizes the value of both, understanding that they can complement each other to provide holistic healing. His deep belief in Indian traditional medicine is evident in his special mixed-and-match treatment methods, where he combines the best of both worlds to tailor the care according to the individual's needs.
This unique approach showcases his open-mindedness, willingness to explore different avenues, and his commitment to finding the most effective solutions for his patients.
His philosophy of helping others with the belief that Allah will reciprocate in countless ways speaks volumes about his compassionate nature. He embodies the true essence of a great physician, not only healing physical ailments but also touching the hearts and souls of those under his care.
His commitment to serving others, regardless of their circumstances, is an inspiration and a reminder of the profound impact one person can make in the lives of many.
Avid health regime
Dr Sedhu and my father embarked on a journey towards fitness and well-being that began in the 1970s and continues to this day. I have vivid memories of them engaging in rigorous jogging sessions on the second floor of his clinic, their commitment and determination evident in every stride. As a young observer, I would sit nearby, flipping through car magazines, while they pushed their limits in pursuit of good health. Driven by their shared passion for maintaining a healthy lifestyle, both Dr Sedhu and my father remain dedicated to jogging and running, with my father even taking up cycling, covering impressive distances of 50 to 70 kilometers per session. His unwavering insistence on prioritizing our family's health has instilled in us a profound understanding of the importance of self-care and has been a guiding light throughout our lives.
Bring your loved ones to meet him
If you or your loved ones have been grappling with a prolonged illness or have encountered countless doctors without finding a solution, I urge you to seek the expertise of Dr Sedhu Faisal.
He possesses an incredible linguistic ability, fluently speaking Chinese, Cantonese, Hokkien, Tamil, Urdu, Hindi, Siamese, and Malay of course; with utmost proficiency. His linguistic versatility allows him to connect deeply with patients from diverse cultural backgrounds, fostering a sense of comfort and understanding.
His mastery of the English language is truly impressive, and his ability to seamlessly incorporate captivating words into his conversations is a testament to his linguistic prowess. His command of the language never fails to leave me in awe.
Whenever my father engaged in conversation with him, I was instantly drawn to the rich tapestry of words that Dr Sedhu effortlessly wove. Each encounter with him became an opportunity for me to expand my vocabulary and deepen my understanding of language. I would eagerly seek my parents' guidance to unlock the meanings of these linguistic gems, cherishing the intellectual growth that Dr Sedhu's words inspired within me.
Returning to the topic at hand, if you have experienced any form of illness, I implore you to pay a visit to Dr Sedhu. Engage in heartfelt discussions with him, as he imparts invaluable life lessons and advice. Not only is he an exceptional communicator, but his diagnostic skills are second to none. With a sharp mind and keen troubleshooting abilities, he will leave no stone unturned in unraveling the mysteries of your ailment.
You can find Dr. Sedhu Faisal at his Klinik Dr. Sedhu Faisal, 273, Jalan Baru, Taman Mutiara, 01000 Kangar, Perlis.
His clinic is situated next to the Secret Recipe Restaurant in Perlis, his clinic is easily accessible for those seeking his expertise and compassionate care.
If you find yourself facing sickness or if you have a passion for cars, shoes, or watches, an encounter with Dr Sedhu Faisal promises to be a truly exceptional experience—one that few doctors can provide. Beyond his medical expertise, Dr Sedhu's diverse interests and deep knowledge in these areas make each session with him a unique and enriching journey.