On the 28th of March 2023, a Twitter user @paizmuhdd reported a case of an illegal transaction amounting to a whopping total of RM46,000! That is equal to 10,404.89 dollars. The transactions took place on three consecutive days starting 25, 26, and 27 March 2023. As many as 23 illegal unauthorized transactions were made and one of the purchases was an iPhone 13 Pro Max.
The screenshot below shows a picture and a video of the two alleged perpetrators buying the handphone in a shop in Kapar, Selangor.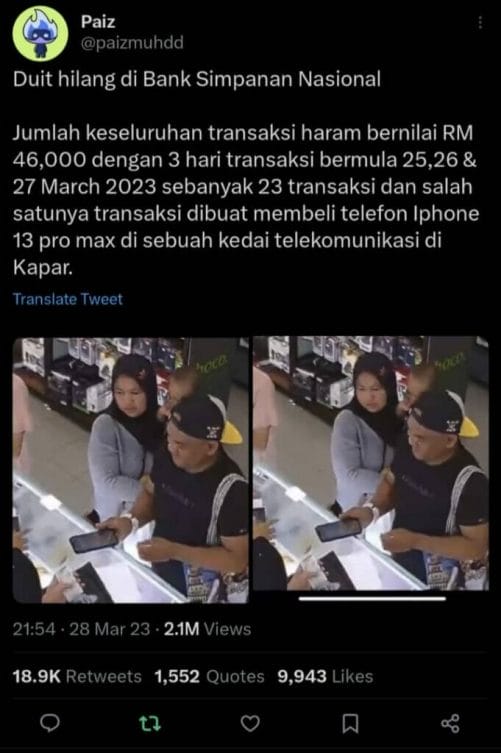 The most shocking part of this is the cunning modus operandi. This crime started at an ATM where the thief insulted the machine. During the debacle, he/she was causing damage to the machine. The thieves, then, stood closely behind the next ATM user and acted like they wanted to withdraw money when the real reason was to check out the victim's pin code number.
The victim's card would get stuck during the process due to the damage done in the first place. Consequently, the perpetrator would act like they were trying to help but at the same time they would take out a different card to be swapped with the victim's card. At this point, the victim's real card would have been in the possession of the thieves along with the knowledge of the victim's password.
The unsuspected victim of this case thought that his card was malfunctioning. The case took place on the weekend. On Monday, the victim went to the bank to get his card replaced only to realize that the card wasn't his card.
These perpetrators aimed at the elderly since most of them do not have online banking to check any transactions. From the thread, it is understood that the two thieves are husband and wife.